FILTRATION INDUSTRY
The range of products that Polímeros offers includes
products that provide a high level of efficiency for internal
combustion engines.
All our products are manufactured under recognized quality standards, using technology and raw materials in search of the best performance for the end user.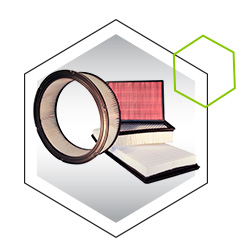 AUTOMOTIVE AIR LIGHT DUTY
Manufactured within a range approx. from 60-120 CFM's
Filter Paper FA-91 Plus Red both smooth and corrugated in different colors.
These papers are used in radial filters as in panels with efficiency requirements above 99% in addition to high values ​​in dust collection.
Some products within our range are:
Papel Filtro FA-91 Plus Blanco Ray Ama V-2
Papel Filtro FA-91 Plus Rojo
Papel Filtro FAC-80 Amarillo
HEAVY DUTY AIR AUTOMOTIVE
Products made with different fiber mixtures, which contribute to provide a great filter performance in different environments.
We have the ability to add different treatments such as flame retardants.

Some products within our range are:
Papel Filtro FAC-11
Papel Filtro FAC 12
Papel Filtro FAC 20
Papel Filtro FAC45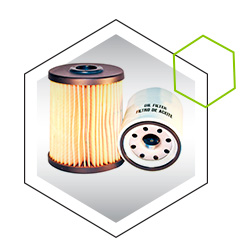 AUTOMOTIVE OIL
Our materials are produced with solvent-free resins, we manage to maintain an ecological benefit.

We have a single product and a double life which allows us to provide greater longevity to the end user.
Some products within our range are:
Papel Filtro AGC-65
Papel Filtro AGC-60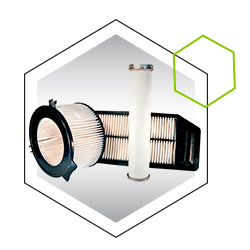 OTHER FILTERING MEDIA
Being Polímeros y Derivados a diversified company in several markets, we have different Non-Woven materials (Non-Woven) developed and used for the manufacture of Oriental filters as well as pre-filters or safety elements (Safety Elements).

Some products within our range are:
Celfil 275-20
Oropal 110-12 PWRH
Celfil 200-21 G
Celfil 500-21 K
IT SHOULD BE POINTED OUT THAT THE ECOLOGICAL VERSIONS HAVE NOT EQUALED THE PHENOLIC VERSIONS, BUT IN THE SEARCH TO PROTECT THE ENVIRONMENT AND PERSONNEL POLYMERS CONTINUES TO RESEARCH AND DEVELOP NON-POLLUTING PRODUCTS FOR THE ATMOSPHERE, IN ADDITION TO BEING BIODABLE.
INDUSTRIAL FILTRATION
Within our industrial filtration area we manufacture non-woven fabrics of the following materials: Polyester, Polypropylene, Nomex, which are the most common materials used for the manufacture of filter bags for the cement, mining, steel, food, paint and resin industries. .
With our range of basis weights ranging from 300 gr / m2 to 600 gr / m2 and our different finishes we offer quality products for different types of needs.
In addition, we have the technology and innovation to develop new products according to customer requirements.
Polyester:
Versatile fabric normally used for dust collection, it is strong, resistant to abrasion, good resistance to acids, solvents and common oxidizing agents, works at a continuous temperature condition of 130 ° C.
Polypropylene:
Fabric that is normally worked at low temperatures (max 90 ° C), with excellent resistance to chemicals.
Due to its characteristics, this fiber linden helps to dissipate static electric discharges.
Nomex:
The manufacture of these fibers is much more complex than polyester, this type
Fiber increases the ability to retain dust and is capable of working at much higher temperatures than most other fibers.
Max temp. continuous in dry conditions 200 ° C